Great wine, excellent food, and lots of fun
The Festival starts at 10h00 to 17h00.
Wineries at the Festival
Taste the Elim area's unique wines, crafted by the extreme growing conditions here: from the marginal soils to the cool coastal winds. Each winery will offer you tastings at the festival at individual stalls, and the opportunity to take a piece of the Elim Wine Ward home with you.
Get a little more intimate with our winemakers
Join the winemakers from various Elim wineries for an intimate discussion and breakaway wine tastings. As a wine connoisseur, taste the unique traits of our Elim wines and share your thoughts with us. Or as a wine beginner, learn what makes a great wine, and how to distinguish the flavours and aromas.
Don't forget the local fresh produce market
Enjoy a range of fresh produce and other country food at the festival – with the produce made by the region's innovative local culinary talents. There will be delicious hearty meals to eat at the festival, perfectly paired with your wine and craft beer. Or take home a host of products, like:
– Delicious local smoked trout products,
– A variety of cheeses,
– Tasty charcuterie options (nicely paired with the craft beer),
– And a range home-made sweets.
Other goodies to take home with you
It's not only about the food: Pretty Proteas, upcycled barrel boards and furniture, and a host of other goods will also be available.
And lots of action around you throughout the day
The Elim Wine Festival is an opportunity to share stories with old and new friends, sip delicious cool-climate wines and eat the best local food.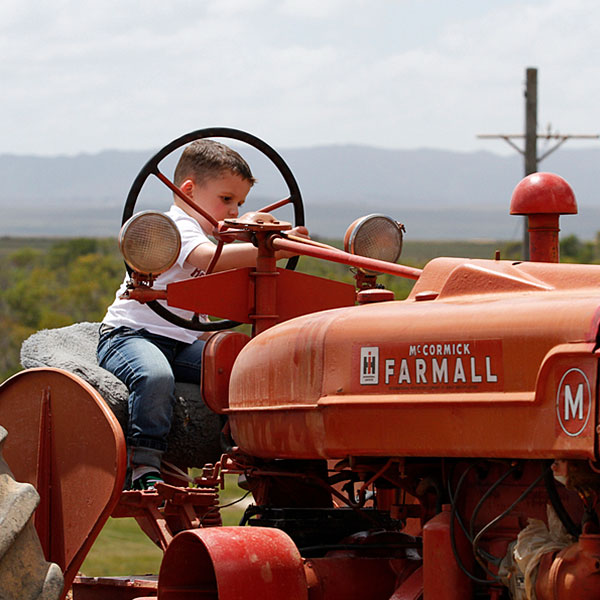 But just to keep you on your toes, we've included a great line-up of performances, like
A savvy sheepdog performance, showing just how smart these animals are;
Check out the Vintage Tractor Parade – old workhorses that have a lifetime of stories to tell;
Fantastic live music from a range of bands, including the Gian Groen Band, Dani Vile, Emile Karg and Borderline.
Please note: In past years, we hosted a mountain bike and trail run event. In 2018, we will focus on our reason for being there: great wine, delicious food and a good time with family and friends. So there'll be no strenuous activities such as biking or running this year.